The USA has the world's largest international student population, with more than 1,000,000 students choosing to broaden their education and life experience in the United States. Nearly 5% of all students enrolled in higher-level education in the USA are international students, and the numbers are growing. From the mid-1950s, when international student enrollment was only just reaching 35,000, international education in the USA has come a long way.
Why everyone wants to study in the USA?
1. U.S. degrees have an excellent international reputation
2. American universities are bastions of cultural diversity
3. U.S. universities offer excellent support facilities
4. U.S. universities invest in optimized classroom experiences
5. American universities offer a flexible academic environment
How to Study in the United States
Find out how you can visit the United States as a student, where to learn English, and how the U.S. educational system works.
The Education System in the United States follows a pattern similar to other countries:
Early childhood (or pre-kindergarten) education
Primary (or elementary) school
Middle (or junior high) school
Secondary (or high) school
Postsecondary (college, career, or technical schools) education
College or University (Postsecondary)
These five steps explain the process an international student can follow to study in a university or college in the U.S.:
1. Research Your Options. Postsecondary education includes six-degree levels: associate, bachelor, first-professional, master, advanced intermediate, and research doctorate. The U.S. system does not offer a second or higher doctorate but does offer postdoctoral research programs.
2. Finance Your Studies. The U.S. government does not provide loans, grants, or general scholarship assistance for international students. As an international student, you will have to find alternative sources of funding such as:
Your Home Country  Education Authorities – Many countries offer foreign study funding for their own nationals who are admitted to an approved program or institution abroad and who qualify for the assistance program.
The International Admissions Office – Many U.S. academic institutions assist international students. Contact the international admissions office at the schools you are interested in to learn if you may be eligible for assistance.
Scholarships and Grants – Private foundations, businesses, and nonprofit organizations offer scholarships and grants for study and research. Use the U.S. government's free online scholarship search tool.
Exchange Programs Administered by the U.S. Government – These exchange programs, including the Fulbright Program and others at all education levels, provide assistance to qualified international students.
3. Complete your application. In the U.S., colleges and universities establish their own admission requirements, including third-party standardized tests. Follow the application requirements set by the admissions office of the institution in which you are interested.
Foreign Diploma and Credit Recognition – Higher educational institutions and licensing boards in individual states evaluate academic coursework, degrees, and professional licenses. The U.S. has no single authority to evaluate foreign credentials.
Standardized Tests – As part of the application process, some programs require students to take one or more standardized tests. Plan to take your tests in advance so your scores are available when you submit your application.
Test of English as a Foreign Language (TOEFL) – Many colleges and universities require this test to measure your English language skills.
4. Apply for your visa. Before you can apply for a student visa, you must first be accepted by a U.S. institution of higher education that is certified by the SEVP.
Elementary, Middle School, or High School
Find information on studying in the U.S. as a foreign student in primary or secondary school:
Search for a U.S. School –

The school you choose must have a Student and Exchange Visitor Program (SEVP) certification. Public elementary schools (K to 8) are not eligible for SEVP certification.

Regulations for Foreign Students in Private Schools 

– Unlike when attending a public school, an international student at a private school may attend from K to 12, and for longer than 12 months.
Visas for International Students – After being accepted by an SEVP-certified school, an international student can apply for a visa at a U.S. Embassy or consulate.
Department of Education by State – Contact state education offices for state-specific programs and information for international primary and secondary students.
Exchange Programs – The U.S. Department of State offers programs for international students who want to come to the U.S. for cultural, educational, or professional exchange.
Check out the most high-tech universities in the U.S:
1. California Institute of Technology – Caltech
History
the California Institute of Technology (Caltech) is a world-renowned science and engineering research and education institution, where extraordinary faculty and students seek answers to complex questions, discover new knowledge, lead innovation, and transform our future.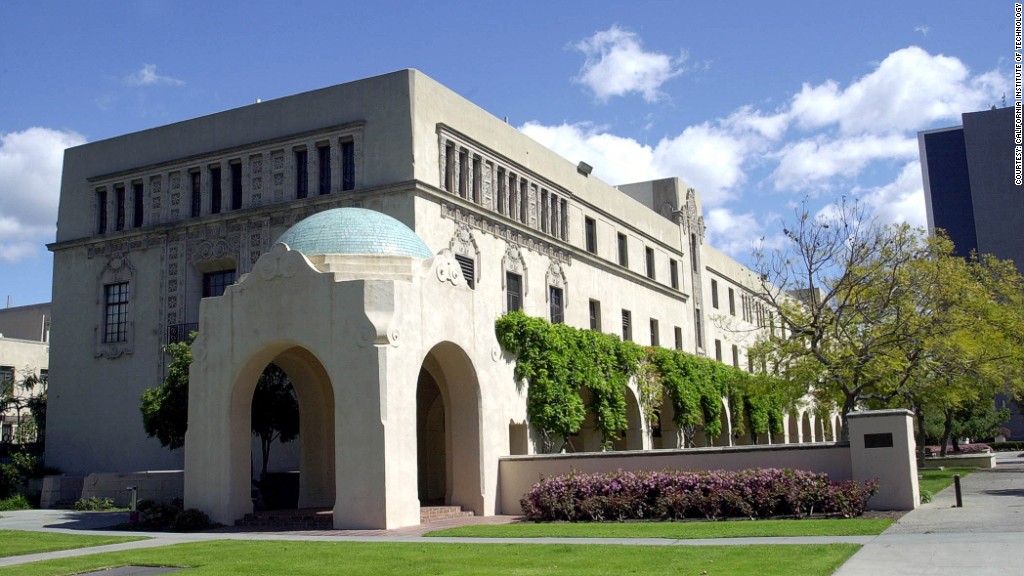 Education
Undergraduate
Chemistry and Chemical Engineering
Engineering & Applied Science
Geological & Planetary Sciences
The Humanities & Social Sciences
Physics, Mathematics & Astronomy
Biology and Biological Engineering
Research
Caltech's researchers are known for scientific inquiry that is bold, innovative, and impactful. Because they're allowed to freely explore their best ideas, these investigators are able to further technology, theory, and both fundamental and applied science in more than 30 areas of research.
2. Cornell University
History
Cornell University was founded in 1865 By Ezra Cornell and Andrew Dickson White. Morrill Hall was the first building constructed on the main Ithaca campus, which today includes 608 buildings on more than 2000 acres. Cornell is the federal land-grant institution of New York State, a private endowed university and a partner of the State University of New York.
Education
Cornell is a privately endowed research university and a partner of the State University of New York. As the federal land-grant institution in New York State, we have a responsibility—unique within the Ivy League—to make contributions in all fields of knowledge in a manner that prioritizes public engagement to help improve the quality of life in our state, the nation, the world.
Master's Programmes
Engineering & Technology, Business & Management, Social Sciences, Environmental Studies, EarthSciences, Arts, Design & Architecture, Agriculture & Forestry, Natural Sciences &Mathematics, Computer Science & IT, Applied Sciences & Professions, Humanities, Medicine & Health, Hospitality, Leisure & Sports, Journalism & Media 
3. Carnegie Mellon University
History
A self-educated "working boy" who loved books, Andrew Carnegie emigrated from Scotland in 1848 and settled in Pittsburgh, Pa. Attending night school and borrowing books, Carnegie went from factory worker in a textile mill to a successful entrepreneur and industrialist. He rose to prominence by founding what became the world's largest steel producing company by the end of the 19th century.

Education
One of the university's missions is to create a transformative educational experience for students focused on deep disciplinary knowledge; problem-solving; leadership, communication, and interpersonal skills; and personal health and well-being.
Master's Programmes
Computer Science & IT, Business & Management, Engineering & Technology, Arts, Design & Architecture, Natural Sciences & Mathematics, Humanities, Social Sciences, Education & Training, Journalism & Media, Medicine & Health
Published by: Antika