China, being the most populous country in the world also known to be one of the largest economies in the world. Coming to the economy of China, it booms every year. It also results in creating plenty of job offers for new graduates who are seeking jobs. 
How to get a job in China? 
If you're going to China to find a job for yourself, it'll be a bonus for you if you know the Chinese language. But, if you are seeking a job for English-speaking then you may route your journey to some big Chinese cities. These cities include Beijing, Shanghai, Guangzhou, and some other cities as well.
The major part of these jobs will come from the foreign-invested enterprise. Some Chinese companies also offer a job but the job-seeker must know Mandarin.
Major industries in China include: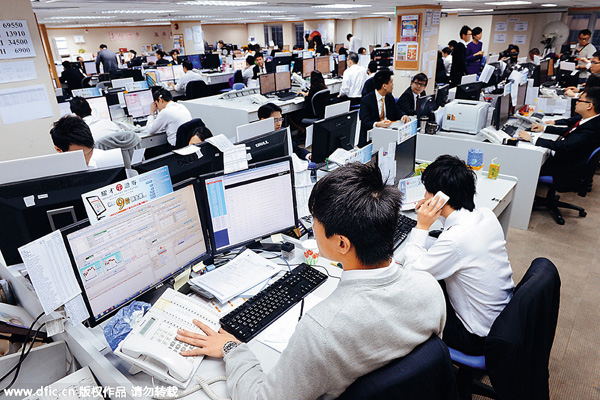 chemicals
consumer products
food processing
machine building
mining
technology
textiles
transport.
You can search for jobs in China at:
AsiaXpat
ChinaJOB
China Xpat Jobs
eChinacities
Reed – Jobs in China
51Job
POPULAR GRADUATE JOBS
Banking and financial services
Engineering
Manufacturing
Sales and marketing
Technology
How to get a job in China
Try to secure a job before arriving in China as this can affect the type of visa you need to apply for.
One of the easiest ways for international candidates to secure a job before making the move is through a secondment from an international company in their home country.
If this isn't possible, networking is extremely important. In China, personal contacts are heavily relied upon during the job hunt as some vacancies are never formally advertised. In this situation, some knowledge of Mandarin can go a long way.
Applications in China usually consist of a CV and a short cover letter. If you can speak Mandarin and are applying to a Chinese company, it's a good idea to write your application in the language to demonstrate your knowledge.
If your application is successful, you may be subjected to a number of interviews before discovering whether you've got the job.
Teaching jobs
If you're a teacher and trying to get a job in China, then English teaching jobs are the key sources for your job. This is the most popular way for foreign workers to get a livelihood in China. Moreover, English teaching jobs in China will assure you with a good salary.
The industrial sector of China is having a gentle growth, which increases jobs too. There will be plenty of opportunities as it will increase the demand for English skills. There are certain high schools, universities where you can have a job and a good salary too. Vacancies for such jobs sometimes need a language certification like IELTS or TEFL. There are certain sites where you can have a look for those vacancies.
You can look for teaching vacancies at:
Premier TEFL
Teach Away – China
Teach English in China
TEFL – China
Internships
Practice makes a man perfect, we all have heard of this. The same applies to Chinese companies as anywhere else. Internships are also an easier way to gain your experience before getting into a real job. Internships will also help you to gain some work experience which is much demanding. Summer internships and job placements will be available by these sources:
AIESEC UK – For students and graduates in recent years. Internships will last from three to eighteen months.
IAESTE UK – For students of science, engineering, technology, and the liberal arts field. Placements usually last from eight to 12 weeks.
The Intern Group – This is a leading international internship provider. Intern Group provides internship programs in Hong Kong and Shanghai.
What it's like to work in China
So at last, we'll discuss the work culture in China. China has also adopted a five-day working week like most other countries. The Chinese government has also made some laws to overcome work conditions. Chinese labor law has also been imposed so that the employees do not have to work under any kind of pressure. There are certain local companies with overtime facilities.
Coming to the holiday eligibility, it is somewhat smaller if we compare it to the other countries. Holidays also depend upon the tenure of your job in the organization. The number of paid holidays may vary to five, ten or fifteen days at some places. Besides these numbers workers also entitled to eleven paid public holidays. 
---
The cover image above was taken in Shanghai, China. Photo by LYCS Architecture on Unsplash