If you are planning to visit Germany and you love shopping then you must have a look at some malls in Germany? Below, is a short brief about the top 10 malls you must visit in Germany. 
Good shopping malls in Germany
The mall has all the brand outlets and the visitor captured a mesmerizing experience. Also, visitors are surrounded, by palm trees, gold, sculptures, and stunting light projections. The mall has a galleria and ocean theme that fully immerses visitors. There are sounds of ocean scents and whale songs to give the complete scene. This mall has ceiling animations that keep changing according to the season. The mall has four levels. The mall offers everything from fashion for men and women to electronics items. There are cafés, bakeries, and banks in the mall.
Read more below, comment, or contact us if you have any questions.
Location: Schloßstraße 34, 12163 Berlin( Germany)
Opened: 16 March 2006
Hours:  Opens 10 AM
Phone: +49 30 66691227
The mall has an American style and it is the biggest shopping mall in Germany. The CentrO Oberhausen is located in Oberhausen, North Rhine-Westphalia. There is also a theater and a children's activity area in the mall. The Centro Oberhausen has 177 stores and 48 restaurants. You will get everything from medicine, pharmacy to sports and fashion essentials. The malls have all the things you need to spend some quality time with o friends or even if you go alone.
Location: CentrO-Promenade 555, 46047 Oberhausen(Germany)
Opened: 12 September 1998
Hours: Opens at 10 AM 
3. Prinzipalmarkt (Münster)
The mall is among one of the historic marketplaces in Germany. The place has several shops in a row and it is also surrounded by the St. Lambert's Church. The ancient place has beautiful architecture with a pedestrian. The place is perfect to find special gifts or clothing items. There are some amazing cafes nearby so that you can spend a good time. Prinzipalmarkt is there in Germany even before the second world war and it has been reconstructed in 1958.
Location: MÜNSTER MARKETING, Klemensstraße 10, 48143 Münster
Phone: +49(0)2 51/4 92-27 10 
3. City-Galerie Siegen
Siegen is home to City-Galerie Siegen. To visit City-Galerie Siegen and get the most out of your trip in Siegen check their website.
4. Kathe Wohlfahrt's Christmas Shop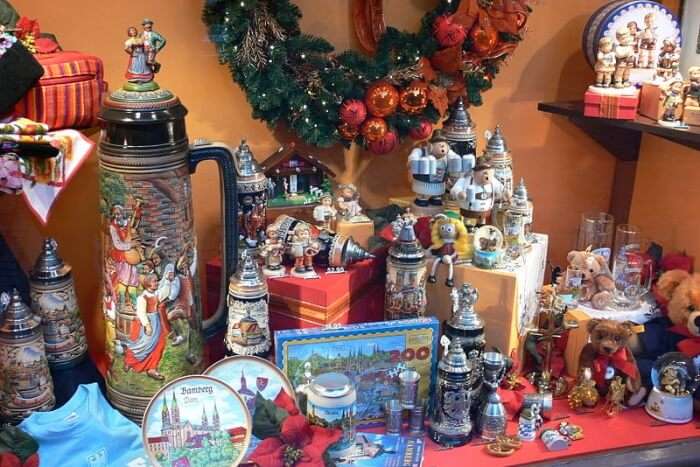 Germany is known for having some of the world's best Christmas markets. This lovely business allows you to enjoy the same sensations even in the summer. Kathe Wohlfahrt's is a beautiful shopping location in Germany. It boasts a fantastic display, a large selection of products, and excellent quality. This enormous store is a pleasant trip for the kids, with a red Christmas wagon parked outside. It's filled with toys and beautifully crafted Christmas joy within. You can't help but be impressed by the massive Christmas pyramid. You can buy some excellent souvenirs and accessories from this fantastic shop.
Location: Herrngasse 1, 91541, Rothenburg, Bavaria, Germany
Timings: 10AM-6PM (Mon-Sat)
5. Mönckebergstraße, Hamburg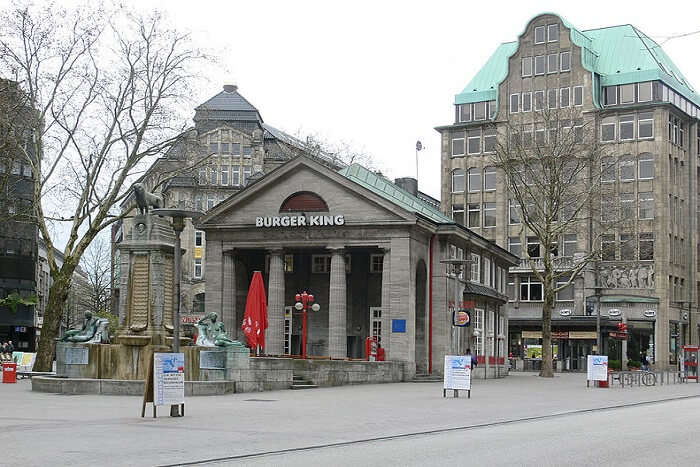 This pleasant pedestrian strip running between Hamburg's major train station and the historic City Hall is a terrific choice if you're seeking a relaxing shopping experience. Karstadt, Europe's largest sports store, and Saturn. The world's largest electronics stores are both located on the oak-tree-lined street. Smaller, more personalized retail establishments selling clothes, souvenirs, jewelry, and electronics. It allows you to rub elbows with the usual suspects like H&M, C&A, Zara, and other fashion names. Levantehaus is a classic stone home that has been converted into a shopping center. It features high-end specialty businesses and restaurants. There are numerous cafes along the way where you may rest your weary feet. Along with that, you can have a beer or coffee, which is one of the nicest things to do in Germany.
Timings: 10 AM-8 PM (Mon-Sat). Sometimes shops close around 7 PM on weekdays.
6. Ingolstadt Village Designer Outlet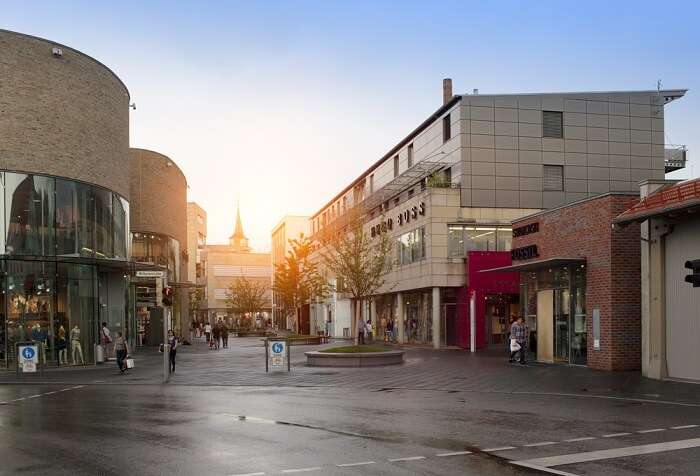 Head to this shopping hamlet in Germany for a slightly different shopping experience. It's home to world-class luxury brands including Prada, Coach, Gucci, and Versace. The town, which is only an hour away from Munich, is ideal for tourists as well as shopaholics. During the annual promotional sales on branded products, you can get some great deals. You can use the Shopping Express shuttle or take the bus, which is a more cost-effective choice, to go to this designer outlet. The Ingolstadt village, with its restaurants and cafes, provides a relaxing shopping experience away from the city's hustle and bustle.
Location: Otto-Hahn-Straße 1, 85055 Ingolstadt, Germany
Timings: 10AM-8PM (Mon-Sat)
7. Mall of Berlin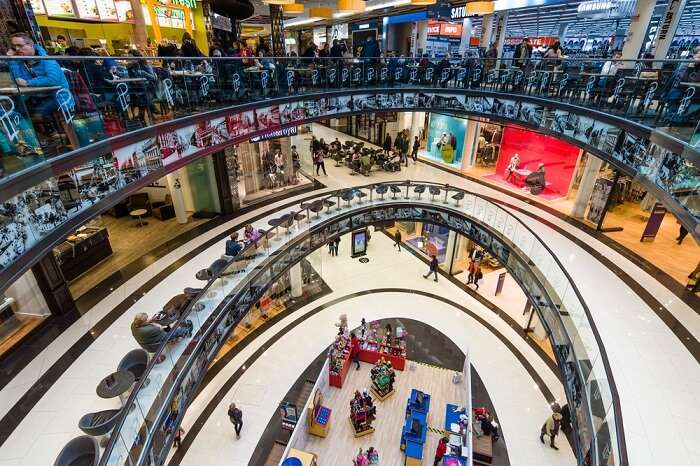 While visiting Berlin, this massive retail mall with its simple and elegant style and hundreds of stores is your one-stop shopping destination. You'll find the best brand retailers right here. From designer clothes and shoes to handbags and electronics. A terrific food court with a diverse selection of vendors. They serve international cuisine is ideal for taking a break from shopping. To add some excitement to your shopping experience, there is a fascinating slide from the third to the first level. Most evenings you can chill out to the beats of great DJs playing in the central area.
Location: Leipziger Pl. 12, 10117 Berlin, Germany
Timings: 10AM-9PM (Mon-Sat)
---
Source: German Girl in America , traveltriangle
---
We write independent articles on travel and living anywhere for everyone. We talk about work, study, moving, health, school, travel, and shopping. Refugees and immigrants are welcome!  
Do you want to help refugees and immigrants?
Contact us
or
email us
to join us. 
Do you want to write articles like this one for us?
Contact us
or
email us
to apply. 
Do you see any mistakes in this article? Please leave a comment or
contact us
. Thank you!
---