Mexico has something to offer almost every kind of traveler. Nature lovers can go diving in the second-largest barrier reef in the world. Discover cenotes, or go on a jungle adventure. Enthusiasts of history can explore Mayan and Aztec ruins. Yogis can go to a retreat on the beach in Tulum. Also, foodies will be content almost everywhere. This article will teach you everything you need to know about planning a trip to Mexico.
Of course, it's difficult to fit everything into a few vacation days when there are so many amazing things to see. I've created this beginner's guide, which covers all the essential inquiries.
Guide on how to plan a trip to Mexico:
Tourist Visas for Mexico
Those with passports from nations on Mexico's no-visa list can visit Mexico
directly
. They didn't need a tourist visa. Australia
is mentioned
(yay). You can stay for up to 180 days on a tourist visa.
Just
make sure your passport is good for at least six months after the date of travel.
When leaving Mexico, a charge must
be paid
. The cost was
just
over 500 Mexican pesos as of October 2018. For this price, cash
is required
.
Currency in Mexico
Mexican Pesos are the local currency in Mexico. To check the exchange rate, use the XE currency conversion tool. Also often used is USD.
Read more below, comment, or contact us if you have any questions.
1
Mexican Peso
equals 
3.64
Indian Rupee
1 

United States Dollar
19.6 
Mexican Pesos
 equals
Flights to Mexico
In Mexico, there are many airports. Your choice of airport will depend on the Mexican destinations you intend to visit. The most well-known and least expensive airports are those in Mexico City and Cancun. Buy tickets to Mexico here.
You can also take a bus to Mexico if you're traveling from the United States, Belize, or Guatemala.
Getting around Mexico
Since Mexico is a big country, flying will be your best bet if you
just
have a short amount of time to travel. If you have more time, the ADO bus service is an excellent way to travel
safely
throughout Mexico. The ADO buses are cozy and
are equipped
with wifi, a lavatory, and movies.
Once you get to your destination, you can use public transportation, and taxis, to rent a bike or moped or a car.
Accommodation in Mexico
There are many places to stay in Mexico, from budget hostels to five-star hotels and Airbnbs. The quality of the accommodations you choose will, of course, affect the cost from city to city.
Booking.com is a good resource to use while looking for lodging.
How much does it take to visit Mexico?
A 7-day trip to Mexico costs, on average, $997 for a single traveler, $1,571 for a couple, and $2,050 for a family of four. While the majority of vacation rentals cost between $80 and $490 per night for the entire home. The hotel rates in Mexico range from $38 to $201 per night with an average of $71. The average cost of a round-trip ticket to Mexico is between $559 and $903 per person for economy class. And between $1,755 and $2,835 for first class. Depending on the activities, for transportation, and dining out at nearby establishments.
Where should I go in Mexico for the first time?
Mexico has something for everyone with its sunny beaches and virgin jungles. It also has natural swimming cenotes (Holes), and vibrant towns. Get ready for memories that will
undoubtedly
last a lifetime!
1. Mexico City
Mexico City
is included
on this list given that it is both the nation's capital and most visited city. Start out your trip with some of the top tourist destinations in Mexico.
You can visit the following places:
the Catedral Metropolitana,

the National Museum of Anthropology,

the Palacio de Bellas Artes, the Chapultepec Castle, and the Templo Mayor Museum.
Best Time to Visit: March to May
How to Reach
By air: There are daily flights to Mexico City from the United States and Canada. You must take a flight to Mexico City International Airport.
The capital
is connected by
intercity buses, making travel to Mexico City simple.
Unless you are in the State of Mexico, it is not advised to travel by train. The Mexican railway system
is designed
for freight.
2. Guanajuato
Guanajuato
is known
as the most beautiful city in Mexico. You can see the buildings' striking colors against the emerald-green mountains. You name it, and the town, one of the best locations to visit in Mexico,
proudly
displays it. Also, this city is part of the UNESCO World Heritage Site.
Best Time to Visit: Any time of the year
How to Reach
By air: Del Bajo International Airport is the one closest to the city. It is in Silao, which is 30 minutes away. Air travel from Mexico City would

just

take an hour.

By car: This is the most cost-effective means of transportation if you're in Mexico City.

Just

board a bus.

By train: See the description under "Mexico City" above.
3. Cancún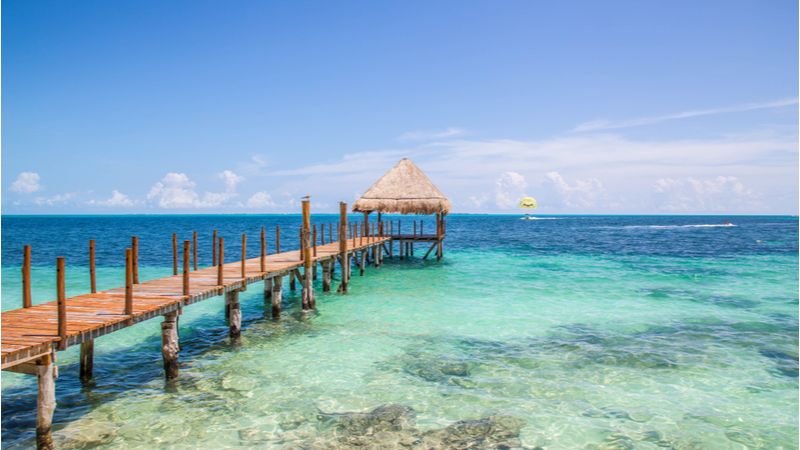 This Caribbean Sea beachfront city is among the top 100 most visited cities in the world. And also to be one of the most well-known tourist destinations in Mexico. It is also the most visited city in
all of
Latin America.
Even though Mexico has several beach destinations, Cancun is a must-visit for all travelers due to its famed white sand beaches
. This is so that you can understand more about the interesting Mayan culture that it has.
Best Time to Visit: December to April
How to Reach
By air: With excellent air connectivity, Cancún is served by major airlines like British Airways, Air France, Lufthansa & Air Canada. You will need to fly to the Cancún International Airport.
By road: While highways Mexico 180 & 307 connect to the city, it is recommended that you take a bus & avoid driving. Not only is driving at night considered unsafe in these areas, but car rentals are also expensive too.
The best way of transportation
Buses are the main form of long-distance public transportation in Mexico. There is an extensive network of buses, which range from modern luxury coaches to retired school buses. 
The Best Time to Visit the Coast
After hurricane season, around November, when the climate shifts to the dry season. Which lasts until about March or April, is the ideal time to start attacking Mexico's shore. With less humidity, pleasant days, and colder nights, this is the most lovely time of year to visit the beach.
Posted By, Shubham Sharma
---
We write independent articles on travel and living anywhere for everyone. We talk about work, study, moving, health, school, travel, and shopping. Refugees and immigrants are welcome!  
Do you want to help refugees and immigrants?
Contact us
or
email us
to join us. 
Do you want to write articles like this one for us?
Contact us
or
email us
to apply. 
Do you see any mistakes in this article? Please leave a comment or
contact us
. Thank you!
---