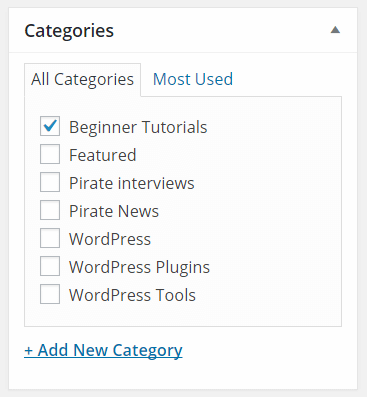 WordPress categories
Categories are the top general method of associating content on a WordPress site. A category symbolizes a topic or a group of topics that are connected to one another in some way.
WordPress Tags
According to Search Engine Journal, "Blog post tags do not necessarily improve search engine rankings in and of themselves, but, while they might not be directly influential, they can improve SEO indirectly. And though most search engines don't rank category and tag pages highly in the SERPs, they are still ranked—meaning they are a viable traffic source.
In the WordPress, both categories and tags are known as taxonomies. Their purpose is to sort the content to improve the usability of your site.
What is the difference between categories and tag?
Categories are meant for broad grouping of your posts. Think of these as general topics or the table of contents for your site.
Tags are meant to describe specific details of your posts. Think of these as your site's index words.
Categories are there to help identify what your blog is really about. It is to assist readers finding the right type of content on your site. Categories are hierarchical, so you can sub-categories.
Tags are the micro-data that you can use to micro-categorize your content. Tags are not hierarchical.
For example if you have a blog where you write about your life. Your categories can be something like: Food, Travel, Rambling, Music and Books. Now when you write a post about something that you ate, you will add it in the Food category. You can add tags like pizza, pasta, steak etc.
Custom permalink (URL) structure will look different. Example:
http://yoursite.com/category/food/ vs http://yoursite.com/tag/food/
One of the biggest difference between tags and categories is that you MUST categorize your post. But there is not necessary to add any tags. If you not categorize your post, then it will be considered under the "uncategorized" category.
Is it okay to assign one post to multiple categories?
There is no SEO advantage to adding multiple categories. If you think it helps your users, then you are more than welcome to add one post into multiple categories.
Remember the purpose of sorting your content efficiently is to help users find it.
By the nature of how top categories should be setup, you shouldn't be able to classify one post into multiple top-level categories.
Use more specific tags.
As categories are used to group blog posts into broad categories, tags are used to give more detail of what blog content is about. Using highly specific tags is more advisable to make it easier for users to find content while using general tags does not add value to navigational aid.
Is there a limit of tags we can assign to each post?
Answer to this question is NO. WordPress has no limits on the number of tags you can assign to a specific post. You can add as many tags you want to add in your post.
Conclusion:
Categories and Tags are just the two default taxonomies that comes with WordPress.Think of your blog as an ever evolving book. Choose the Table of Content (categories) wisely. Make sure that they are broad topics, but be cautious to not make it too vague. Use tags to loosely relate multiple posts. If you see a certain tag is becoming popular, then consider adding it as a sub-category.